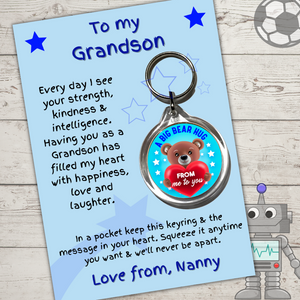 An awesome message and gift for your grandson, only available here at RosieSales!
Designed and made by us to ensure you get a great gift for your grandson.
Each keyring comes attached to a message card and is packaged in a cello-bag to ensure it's ready to be gifted to a loved one. 
Personalise who it's from - Grandma, Nanny, Gran....simply type what you'd like in the box provided.
The keyring is double sided and 35mm in diameter, making it a perfect size to attach to your keys or keep in a pocket ready for that big bear hug squeeze anytime it's needed!
These keyrings are super-cute and their meaning is always well received.
Has a great blue message card (printed on A6 300gsm, heavy-weight, premium card.)
Exclusive to RosieSales!
Message card reads:
To my Grandson
Every day I see your strength, kindness & intelligence. Having you as a Grandson has filled my heart with happiness, love and laughter.
In a pocket keep this keyring & the message in your heart. Squeeze it anytime you want & we'll never be apart.
Love from (personalised name)
---------------------------------
Take advantage of this offer today and secure your 100% money back guarantee. We accept all major debit and credit cards as well as PayPal to ensure peace of mind and security.