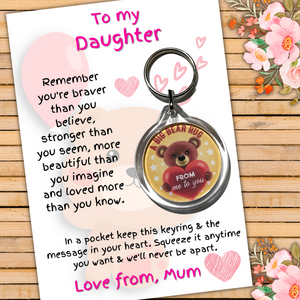 A beautiful message and gift for your daughter, only available here at RosieSales!
Designed and made by us to ensure you get a totally unique item that oozes love and care for your daughter.
Each keyring comes attached to a message card and is packaged in a cello-bag to ensure it's ready to be gifted to a loved one. 
Personalise who it's from - Mum, Mom, Dad, etc....simply choose what you'd like from the options provided.
The keyring is 35mm in diameter, making it a perfect size to attach to your keys or keep in a pocket ready for that big bear hug squeeze anytime it's needed!
These keyrings are super-cute and their meaning is always well received.
View the Son Keyring - Click Here
Load it up with love ready to be dished out anytime it's needed!

Message card reads:
Remember you're braver than you believe, stronger than you seem, more beautiful than you imagine and loved more than you know.
In a pocket keep this keyring & the message in your heart. Squeeze it anytime you want & we'll never be apart.
Love from (personalised selection)
------------------------------------
Take advantage of this offer today and secure your 100% money back guarantee. We accept all major debit and credit cards as well as PayPal to ensure peace of mind and security.